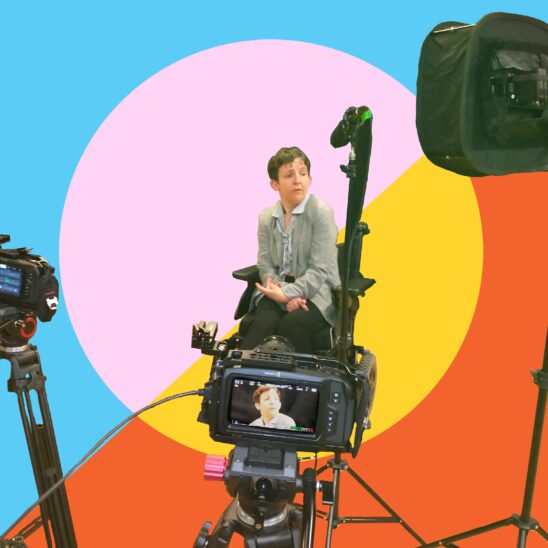 Throughout 2021 Proud and Loud Arts worked with Phil Smethurst of MancLights Media to run Acting for Camera workshops.
Phil Smethurst is a film maker, camera operator and video editor based out of Manchester, UK and met with a group of our artists each Tuesday to develop their skills around this essential piece of tech.
WHAT THEY GOT UP TO
The aim of the sessions was to teach our artists all the necessary skills to record performances to camera.
In the beginning the group worked with Phil to learn a whole host of new skills including how to use technology; how to set up and use microphones, cameras and lighting. Of course if you're going to be recording, you need something to record! So, the group also looked at many different types of performing to camera; presenting, acting for adverts, talkshows, drama & comedy. Whilst most decided to work with short monologues, some chose to record physical performances and some chose not to perform at all instead staying hands-on behind the scenes.
Sessions went further as our artists took full responsibility for recording their performances, which included sourcing and developing scripts, music, choosing their crew (Daryll was in high demand), creating a shot list and all other aspects of the process.
DARYLL'S JOURNEY
We have to give a massive congratulations to Daryll Duncan who showed a knack for working behind the scenes. Daryll instantly took to operating a camera and really enjoyed taking more responsibility for the shots & audio aspects for other people's work. Under Phil's guidance, Daryll worked closely with each performer to offer advice and suggestions for how the pieces could look & feel, suggesting camera angles and undertaking the lighting with perfect precision.
Want to get involved yourself?
You can learn more about our Engagement programmes HERE.