Cells – A Body of Work goes to Edge Hill University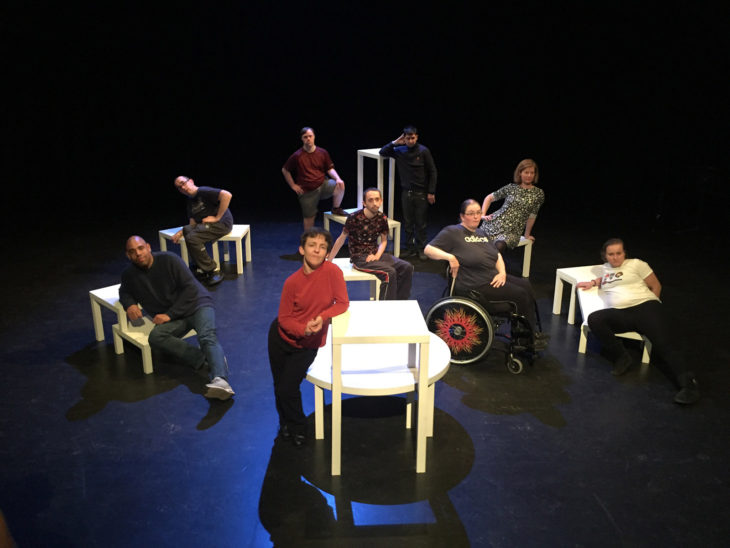 On Monday 3rd July, we headed to Edge Hill University to perform our live art installation 'Cells – a body of work'. We were all really excited to perform at Edge Hill, it's such a big university with lovely performance spaces both indoors and out.
We first visited Edge Hill as a group two weeks before the performance, which gave us the opportunity to look at the performance spaces, set up our pieces and try it out. We all had two performance spaces, one indoor and one outdoor, just in case the weather didn't hold up. We were all hoping that the weather would be dry on the day, as it would be the first time for us to perform outside.
After keeping our fingers crossed all the way to Edge Hill, the weather stayed dry which meant we were able to perform outside. It was a warm but quite a breezy day, which made setting the pieces up a challenge, as flooring and other props needed to be weighed down to prevent them from blowing away across the campus!
The performances went really well, we weren't expecting a big audience as most of the students had finished for the summer. As it was a smaller audience, it felt much more intimate but more relaxed. Being outside was quite calming which seemed to help with the nerves a bit. Usually we all have queues of people waiting to experience the piece themselves, or watching others taking part, it's usually two straight hours of repeating the piece over and over again. So, it was quite nice on Monday as we had lots of time in between each audience member to just enjoy the lovely surroundings whilst waiting for the next person to find you. Each piece was recorded by the university and they are going to be using the footage to evaluate the performances, which will help us to create new work.
We would like to thank the staff at Edge Hill for making us feel so welcome and going the extra mile.