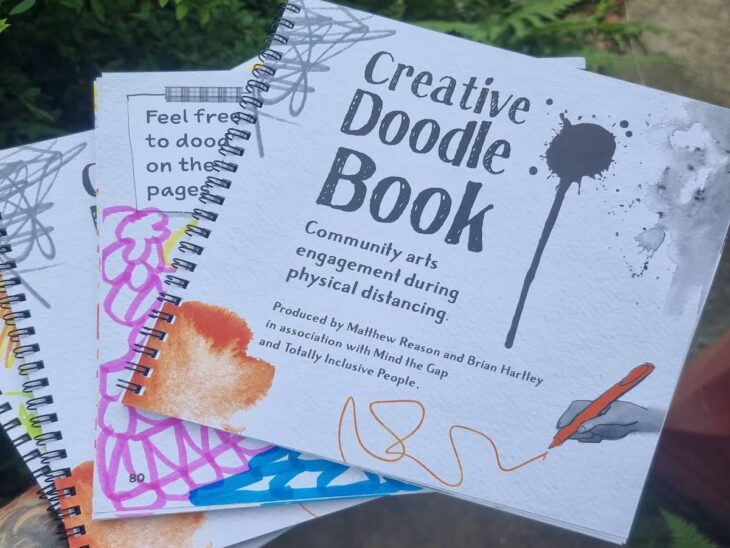 The Inter-arts group have welcomed friends from Mind the Gap to deliver some gentle, fun, and creative sessions.
ABOUT THE DOODLE BOOK
We're working with Mind the Gap's Creative Doodle Book, developed with York St John University. The book is packed with activities to complete using pens, crayons, materials, or paint. The book supported socially distanced community arts practice during the Covid-19 pandemic and we're here for it!
Our Inter-Arts group are no strangers to the perils of working during lockdown & isolation. In fact, this group was formed remotely during the first lockdown!

It's amazing that our new members have been able to work remotely together via Zoom and fantastic that they are now free to meet for in-person session at Contact theatre.
For 4 weeks we've been joined in the Contact building by practitioner, Lisa Debney remotely joining the group via Zoom. Lisa has been leading the activities and given us an insight into the wonderful possibilities the Doodle Book inspires. 
GETTING STUCK IN
Each sessions has started with some freestyle doodling to music. Our artists really enjoy this activity!
Freestyle doodling to music gets us out of our heads and into our hands. It's all about playing, doodling and explore ideas.
The group found out that different types of music create different types of pictures.
Quick, sharp Jazz music saw some frantic drawing, with equally frantic-looking results! Drawing to Classical music created a more magical atmosphere and inspired our artists to create some soft, curving images.
DISCOVERING ARTIST STYLES
Lisa introduced he group to new artists and art-forms each week, some that many of our artists are familiar with, such as optical illusion artist (op-artist) M.C. Escher.
Gemma recognised his famous piece 'Relativity' and told us;
"It is amazing how they [op-artists] can make such clever pictures, I have no idea how they do it, but I'd like to have a go".

– Gemma
Gemma was in luck! Lisa asked our artists to use shapes, colours and patterns in a similar way to op-artists. How can we create images that look as if they are moving or that look different from different perspectives?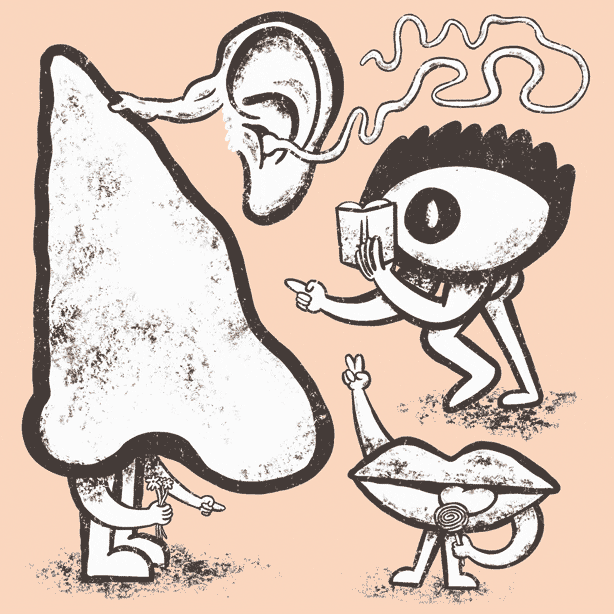 The group were also asked to create pictures using their sensory experiences of favourite things, which created some pretty abstract imagery!
Rhea chose to create a pattern of flowers as she likes to smell them, and Dan chose to include grass as he enjoys the feeling of long grass.
The group were delighted to discover other artists including, Zaha Hadid aka 'Queen of the Curve'.
Zaha is an architect who creates amazing buildings with unimaginable curves.
By exploring Zaha Hadid's curving shapes, our artists depicted their own wonderful and unique 'perfect spaces'.
We're looking forward to another couple of sessions with Mind the Gap.
KEEP YOUR EYES PEELED on our socials for more creative doodles from the Inter-arts gang.