National Lottery's Big Jubilee Street Party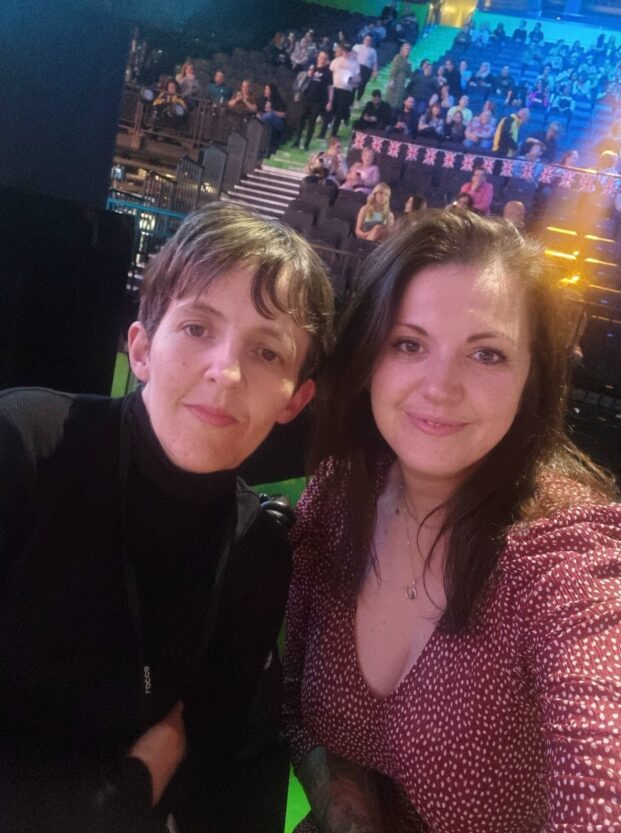 Janet Charlesworth one of our founding members who has been performing with us since the year 2000 and Imogen Barton-Wells who is part of our creative team got the opportunity to spend a lovely evening at the National Lottery's Big Jubilee Street Party. They were invited to be guests following their special meeting with Her Majesty Queen Elizabeth II last year. Proud & Loud Arts we're awarded the Queens Award for Voluntary Service in 2019 which is the highest award given to UK volunteer groups and is equivalent to the MBE. At the time Kelly Hoye who was one of the team who attend the meeting with Her Majesty said, "This was a true honour to be able to go and represent Proud & Loud Arts at such a big event… It's not everyday you can say you went for afternoon tea with the Queen and other members of the Royal family".
The street party will be televised on Sunday 5th June on ITV as part of the Jubilee Celebrations. They spent the evening celebrating and honouring our monarchs magnificent reign. The arena floor was transformed into a stunning street party setting, with festoon lights, trestle tables and bunting. Janet and Imogen had amazing seats amongst the action.
Here's what Janet had to say,
"On Thursday 12th May Imogen and I attended the AO arena for the National Lottery's Jubilee Celebration. When we arrived, we were directed to our table (yes, we had an actual table on the arena floor). The evening itself was great. The acts were great. You might spot us if you watch it on TV on Sunday 5th June."
Thanks for having us National Lottery!