Nature's Playground: A Week of Adventure and Artistry at Bendrigg Trust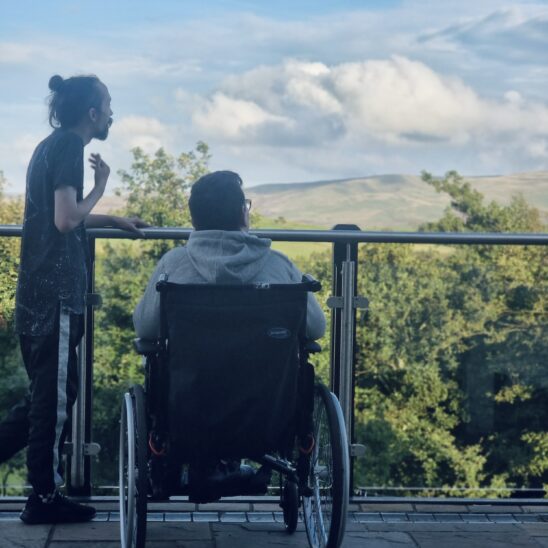 Last week, some of our artists and creative team embarked on a transformative journey, venturing into the heart of the picturesque Lake District for a creative residential retreat at Bendrigg Trust. This enchanting haven nestled in Kendal offered a perfect blend of outdoor adventure and artistic exploration, providing a fresh canvas for our creative spirits to flourish.
Immersed in Nature
For an entire week, we embraced our new environment and it embraced us. The beauty of our visit to Bendrigg Trust lies in the freedom from any pressure to produce anything specific. Instead, we allowed ourselves to sync with nature's rhythm, delving into a new creative space.
Words Woven in Nature's Tapestry
Joining us in this creative odyssey was award-winning writer, Beth Westbrook who we found at The Writing Squad.
Beth documented the week's adventures and guided us through writing workshops. These sessions were a source of inspiration, allowing us to weave ideas that intricately connected with the natural world around us. Through Beth's guidance, we unearthed a trove of new ideas linked to our environment.
I loved rock climbing, I learnt to build body strength, I was happy, emotional.

I like going outside, looking at the view, I think it's beautiful

It feels like home here, with everyone.

Phillip
A Symphony of Sounds
One of the most enchanting aspects of our retreat was the presence of the immensely talented Léonie Higgins. As a freelance artist, creator, and singing and voice specialist, Léonie added a unique dimension to our experience. She recorded a soundscape made of our voices that captured the magic of our surroundings. It served as a soundtrack to our creative endeavours, linking us to the nature around us. We also enjoyed a musical campfire session, complete with delectable s'mores galore, 'orchestrated' by Léonie – a resounding highlight!
A Bucket-List of Activities
The days at Bendrigg Trust were punctuated with exhilarating activities that pushed our boundaries and forged lasting memories. From the thrill of rock climbing to the serenity of canoeing, we discovered new facets of ourselves amid the beauty of the Lake District. Indoor caving provided a surreal journey, while orienteering and archery brought out the explorers among us.
How I feel this week? – joyful, happy, grateful, fantastic. I feel fresh and relaxed here

I've had a really good time. The zip-line was amazing, and the climbing.

The best thing was getting along with my friends.

Daniel R
Our retreat at Bendrigg Trust was not merely a getaway; it was a revelation.
Through the mixture of outdoor adventures and artistic exploration, we shared an experience that will resonate within us for years to come. Bendrigg Trust, with its serene landscapes, accessible spaces and boundless activities, served as the perfect place for our creative souls to thrive. We return, not just with memories, but with a renewed sense of purpose and a fresh trove of artistic endeavours waiting to unfurl.
---
Our creative residential retreat was made possible thanks to National Lottery Community Fund Awards for All and supported by Arts Council England