It's the penultimate week of the OnIT Challenge!
Week 5 sees our artists researching the work of an internationally renowned painter and being incredibly GOOD at being very 'BAD' actors…
… BUT FIRST!
SPOTLIGHT ON THE WRITING CHALLENGE
Many of our artists pursue writing as part of their creative practice, so this challenge put those skills to the test – whilst also adding a few more feathers to their cap – or quill, if you will.
Up until now our writers have explored –
Writing scenes for television
Writing scenes for the stage
Writing monologues
Writing prose
Writing poetry
This week, the writers were challenged to write a review!
We chose The Democratic Set (2012) by Back 2 Back Theatre – a rapid series of short, live performances and screen-based video portraits created in collaboration with communities.
Kelly's review found that this piece was,
'positively bizarre and thought-provoking'
She thought that their,
'use of space was interesting'
and appreciated the set design which reminded her of shop windows or picture frames.
If you'd like to create your own review you can watch the work and let us know your thoughts!
OTHER NEWS IN WEEK 5
---
ACTING CHALLENGE HIGHLIGHT
The course of true love never did run smooth (I.i.135-36)
An Acting Challenge wouldn't be a challenge without a touch of Shakespeare so, this week our actors tackled 'A Midsummer Night's Dream' (1595).
The play is a fantastically silly and funny comedy that looks at love and how foolish we humans are about it.
In our scene, a young male (very bad) actor called FLUTE is forced to play a female character called THISBE, because back in those days women we're banned from the stage. BOOOOOOOO!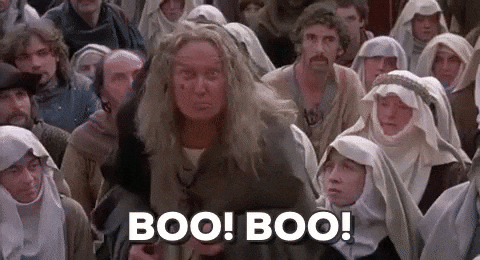 Thankfully that's not the case anymore.
So, FLUTE has to play THISBE who thinks their lover (PYRAMUS) is dead so they (THISBE…played by FLUTE)) dramatically end their own life.
CONFUSED??? Us too, and we even did our own interpretation of the Pyramus & Thisbe story back in 2015! Check that out HERE.
ANYWAY… this scene is full of chaos and alongside learning their scripts and donning extravagant costumes, our actors were also challenged to do the best 'BAD' acting they could!
We loved Daryll's virtual entry, complete with 'bad' framing, so much thought went into this entry! Check it out…
---
TIMED TASK HIGHLIGHT
One of Week 5's timed tasks involved a little #ArtAppreciation.
We enjoyed discovering the chaotic brilliance of American painter, Jean-Michel Basquait.
Janet selected this Untitled piece which in 2017 sold for a 'Mind-Blowing' $110.5 Million –
I chose this piece by Jean-Michel Basquiat because I like how there doesn't appear to be any solid lines and every part of the skull bleeds into the others.

Janet on #artAppreciation
And that's our round up for week 5 of the #OnITChallenge.
We'll be rounding up the LAST week of the challenge soon, so come back for the grand finale!
Blog author, Imogen Barton-Wells